June 29d (Sat), June 30th (Sun),2019 ※Details to be determined
Flowers and Life Exhibition
Hana-to Kurashi Exhibition (Flowers and Life Exhibition) is an event that has been promoting the concept of a graceful lifestyle with open gardens and flowers before modern gardening even became a popular trend in Japan. In 2018, this event will have had a long history of 29 years. It is an important event for the people of Eniwa because it helped put the city in the spotlight as a world-class gardening city.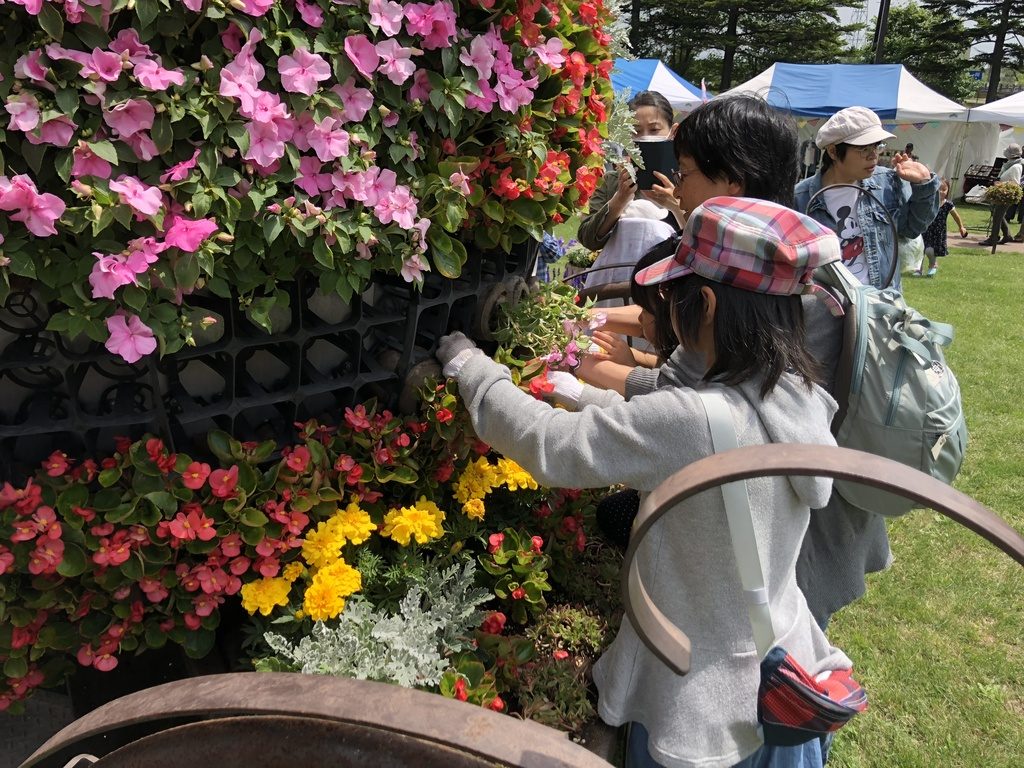 | | |
| --- | --- |
| Period | June 29d (Sat), June 30th (Sun),2019 ※Details to be determined |
| Time | 10:00am - 5:00pm during the period |
| Place | Road Side Station Flower Road Eniwa |
| Adress | 817-18 Minami Shimamatsu, Eniwa, Hokkaido 061-1375 |

Event schedule 23rd (Sat) 10:00am-5:00pm
※ The event contents and times may suddenly change.
10:00-10:20am
●Stage
◆Opening (Greetings by the event organizer)
Greetings by the mayor and a Waki town representative, with introduction of guests.
10:30-11:00am
●The space in front of the stage
◆Welcome ceremony
①Eniwa-dake drum performances ②Local dance, Suzuran-odori ③Yosakoi Soran
11:10-11:15am
●Stage
◆Introduction of entrants for the flower barrel contest.
Interview entrants.
11:20-11:40am
●Stage
◆Kids Japanese drum performances.
performers: Elm Kindergarten students
11:50-12:20pm
●Stage
◆Flower barrel contest judging and awards
presentation of prizes
12:30-12:50pm
●Stage
◆Cheer dance
performers: POM
1:00-1:10pm
●Stage
◆The future of Eniwa, the city of flowers
a sneak peak at the future of the event and garden tours.
1:30-2:00pm
●Stage and other
◆Wind orchestra performance
Eniwa Kita High school wind orchestra club
2:10-2:40pm
●Stage 
◆Flower stamp rally lucky draw
collect stamps in the venue and get a prize
2:45-3:00pm
●Stage
◆Cheer dance
performers: Primrose
3:10-3:30pm
●Stage
◆Flower arrangement demonstration
instructor: Chikako Ikenaga
3:40-4:00pm
●Stage
◆Rhythmic gymnastics performance
performers: Eniwa Minami High school rhythmic gymnastics club
4:20-5:00pm
●Stage
◆Lucky draw
(tickets are sold for 200yen at the main tent)

Event schedule 24rd (Sun) 10:00am-5:00pm
10:00-10:10am
●Stage  
◆Information
performers: E-niwa
10:10-10:25am
●Stage
◆Hula
performers: Lehuanani
10:35-11:05am
●Stage
◆Hanamaru auction
performers: Eniwa Flower growers association
11:15-11:45am
●Stage
◆Flower fashion show
pupils, elementary school students
11:50-12:10pm
●Stage
◆Hanamaru wedding
(Marche PR when there's no candidate)
12:20-12:35pm
●Stage
◆Flower-man's quiz hero show
Hokkaido Bunkyo University volunteer club
12:45-1:10pm
●Stage
◆Hula
performers: Pilialoha
1:20-1:50pm
●Stage
◆Gospel
performers: Voice of Praise
2:00-2:35pm
●Stage
◆Flower stamp rally lucky draw
collect stamps in the venue and get a prize
2:40-3:00pm
●Stage
◆Martial arts demonstration
performers: team Hanka
3:10-3:35pm
●Stage
◆Karate demonstration
performers: Yushikai Sakai dojo
3:40-4:05pm
●Stage
◆New performing art group Ranbyoshi performance
performers: Tatsuhiko Muraba and others
4:10-4:50pm
●Stage
◆Lucky draw
(tickets are sold for 200yen at the main tent)
4:50-5:00pm
●Stage
◆Closing ceremony
Trial lessons on the second floor of the building For 23rd and 24th
For 23rd and 24th
Flower arrangement
10:00am-3:00pm
Preserved flower and herbarium
10:00am-12:00pm, 1:00pm-4:00pm
Pressed flowers
10:00am-4:00pm
Japanese calligraphy
10:00am-12:00pm, 1:00pm-4:00pm
Photography
10:30am-11:00am
Cooking soba noodles
10:00am-3:00pm
Ishikari Kankyo Mirai Exhibition (the exhibition of the environment and future of Ishikari area)
10:00am-3:00pm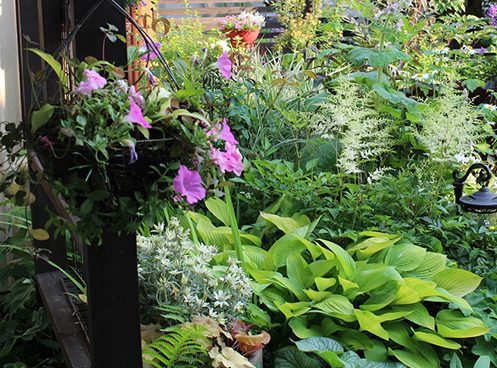 Garden Tour
A garden tour that visits open gardens in Eniwa, the town of flowers.
Dates
June 23rd (Sat) and 24th (Sun)
Starts twice a day (1) 10:00am (2) 1:00pm
Entry
the main tent
9:30am- (tickets begin selling for the day)
Capacity
28 people (first come first served)
Fee
800yen per person
Duration
about 1 and a half hours
Notes
Participants will receive a piece of Enidora, a cake using Eniwa pumpkins, and black bean tea for free.

Inquiry and application
:Council for Flower Town Promotion in Eniwa
(Tourism Department of Flowers and Nature) (+81) 0123-33-3131 (ext.2524)
※Pre-registration is not accepted. Please apply at the venue.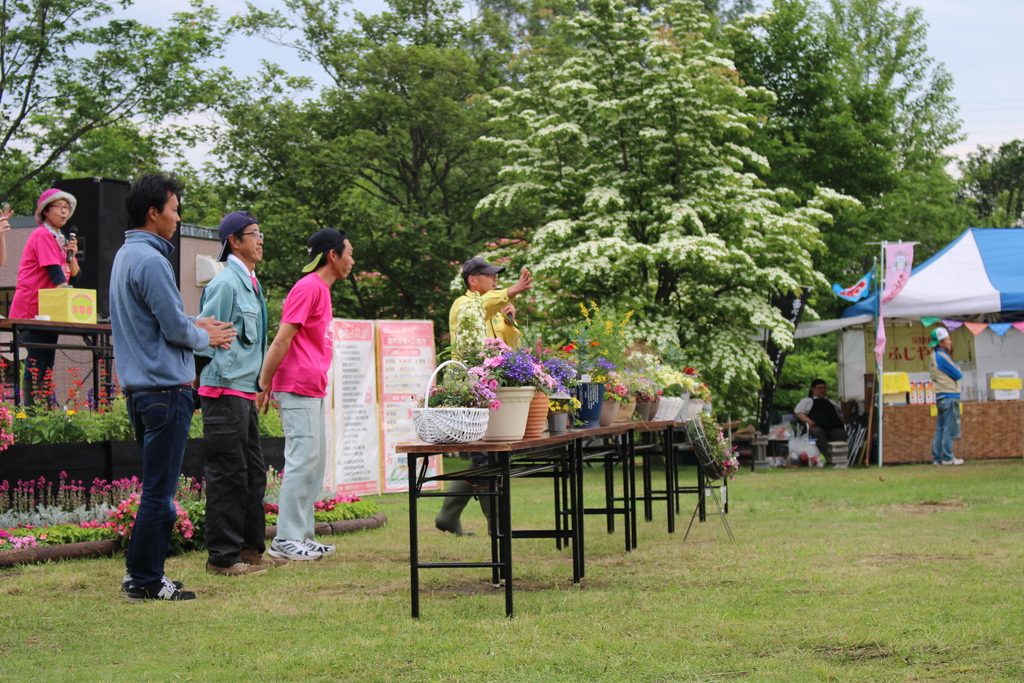 Flower Barrel Contest
Join Flower Barrel Contest! Plant flowers in a barrel with your own ideas and original style. Flower barrels will be placed and decorated throughout the city.
Date
June 23rd (Sat) 11:10am
Venue
Road Side Station Flower Road Eniwa
Contents
Plant around 30 summer flower seedlings into a barrel
Target
groups of 3-5 people
Capacity
5 groups (order of arrival)
Fee
free
Notes
Participants will receive gifts including vegetables
Inquiries and application
Tourism Department of Flowers and Nature (+81) 0123-33-3131 (ext.2524)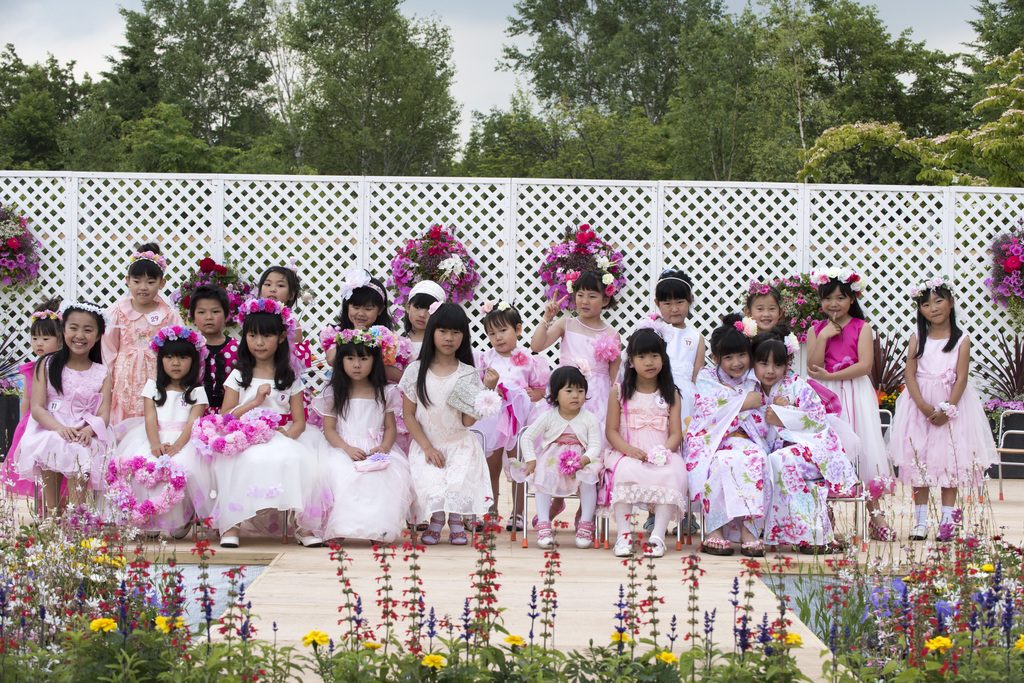 Flower Fashion Show
「The key word is "flowers and pink". Either handmade clothes or ones bought from a shop are OK. Dress up young models and create an amazing fashion show!
Date
June 24th (Sun) 11:35am
Venue
Road Side Station Flower Road Eniwa
Target
pupils and elementary school students
Capacity
30 people (order of arrival)
Fee
free
Notes
Participants will receive a chance of a photo shoot and some presents including a flower pot.
Inquiry and application
Council for Flower Town Promotion in Eniwa
(Tourism Department of Flowers and Nature) (+81) 0123-33-3131 (ext.2524)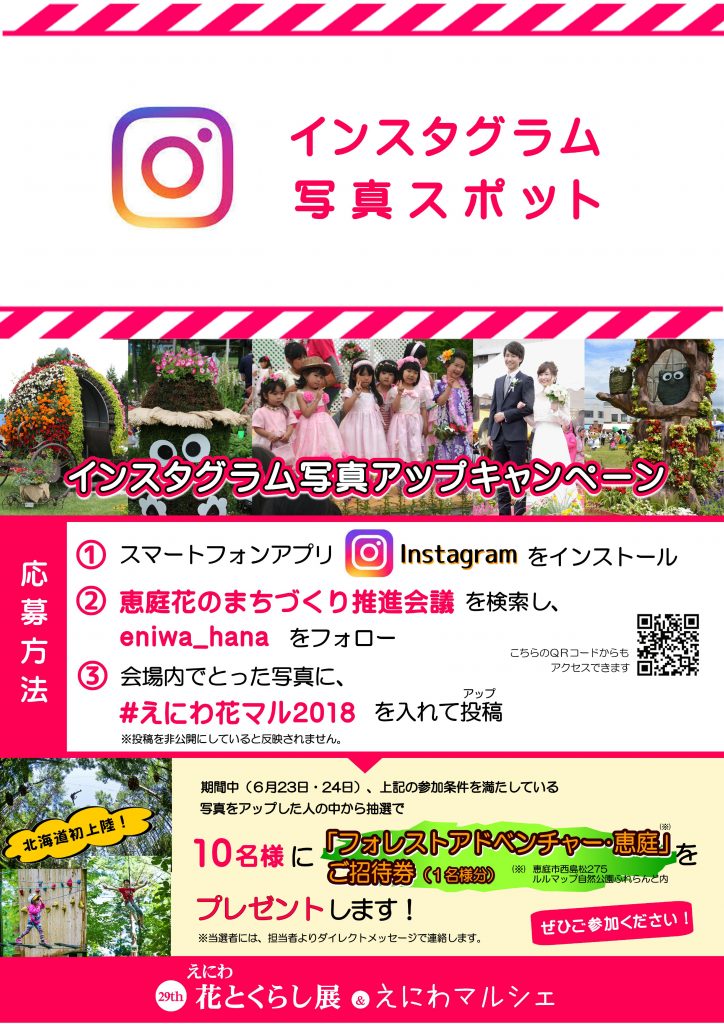 「instagram写真投稿」キャンペーン
Take some pictures of the flowers at the venue and post them with the "#えにわ花マル2018" hashtag. 10 winners will be selected in a drawing and are given a free ticket to the Forest Adventure Eniwa, a new attraction introduced to Hokkaido.
Dates
June 23rd (Sat)-24th (Sun) 10:00am-5:00pm
Venue
Road Side Station Flower Road Eniwa
Subject
Photos posted from June 23rd (Sat) to 24th (Sun)
Number of winners
10 (draw)
Fee
free
Notes
Please check the application conditions
Example: Applications cannot be accepted when an account is locked.


Inquires
Council for Flower Town Promotion in Eniwa
(Tourism Department of Flowers and Nature) (+81) 0123-33-3131 (ext2525)

Contact us
Council for Flower Town Promotion in Eniwa
(Tourism Department of Flowers and Nature) (+81) 0123-33-3131 (ext2525)
Other Recommended Events