July 27th (Sat) 2019 ※Details to be determined
Eniwa Sanshikai Fireworks Festival※ Information is last year's.
The Eniwa Sanshikai Fireworks Festival attracts many people every year
Eniwa's Multi-Purpose Open Space is lined with a variety of food stalls and is host to many events, including a lucky draw before the night falls. The main event lights up the night sky with a display of 3,400 fireworks! The breathtaking and beautiful blossoms of light include special firework types, like the "Niagara Waterfalls" and "Star Mine". ※ There is no parking lot. Visitors are recommended to use public transportation.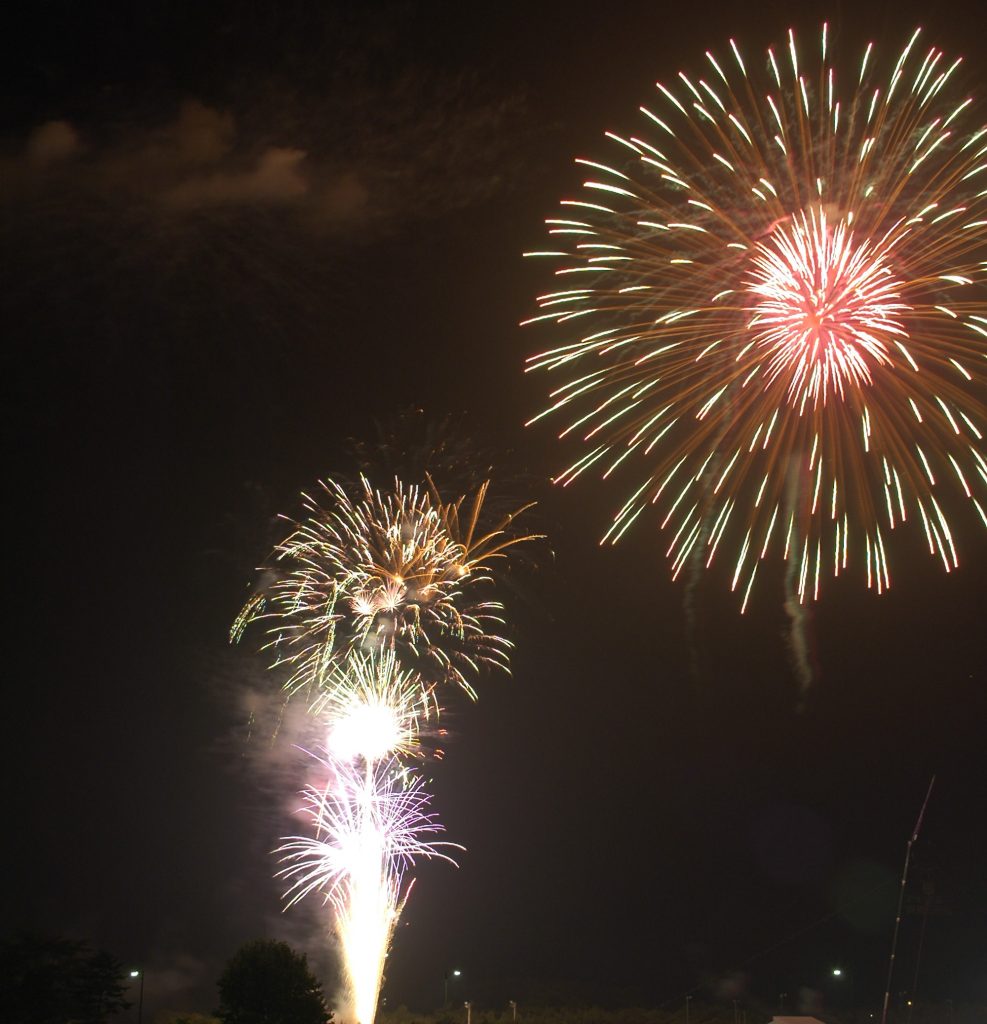 | | |
| --- | --- |
| Period | July 27th (Sat) 2019 ※Details to be determined |
| Time | 7:45pm - 8:45pm (The 9th Eniwa Sanshikai Festival 12:00- ) |
| Place | Eniwa Multi-Purpose Open Spacea |
| Adress | 4 Sakuramachi, Eniwa |

An astounding 3,400 fireworks!
The 9th Eniwa Sanshikai Festival
The 41st Fireworks Festival

12:00pm
Opening
12:18pm
Candy Shower
12:30pm
Drum and fife band performance (Kindergarten Ehon-no Mori)
12:50pm
Hip Hop Dance (Central Fitness Megumino HIP HOP team)
1:05pm
Social Dance (Dance Produce Okabe)
1:20pm
Girls Hip Hop (SATOMIN Dance School)
1:30pm
Kids Cheer Dance (Central Fitness Megumino Kids Cheer Dance POM family)
1:50pm
Hula (Pilialoha)
2:05pm
Eniwa Cheer Dance Club (PRIMROSE)
2:20pm
Hip Hop Fance (Pasta Heads)
2:35pm
Hula (Riko Maunaloa Class)
3:00pm
Struck Out Game
4:05pm
Band (Attraison Detre with Vermilions)
4:25pm
Frisbee Dog Show
4:40pm
Anime Song (Yuki & Karin Kanda)
4:55pm
Hip Hop Dance (T-max crew)
5:10pm
Baton Twirling (Ripple)
5:20pm
Hula (Hula Studio Moana)
5:40pm
Sanshikai Lucky Draw
6:35pm
Dance (TEAM ONWARD Megumino)
6:50pm
Contemporary Dance (Team Maiken)
7:05pm
Yosakoi Soran (Eniwa Benigarasu)
7:25pm
Performance (Eniwadake Drums)
7:45pm
7:45pm
※ The schedule may suddenly change.
※ There will be 30 food stalls.
※ Drinking and driving is strictly prohibited.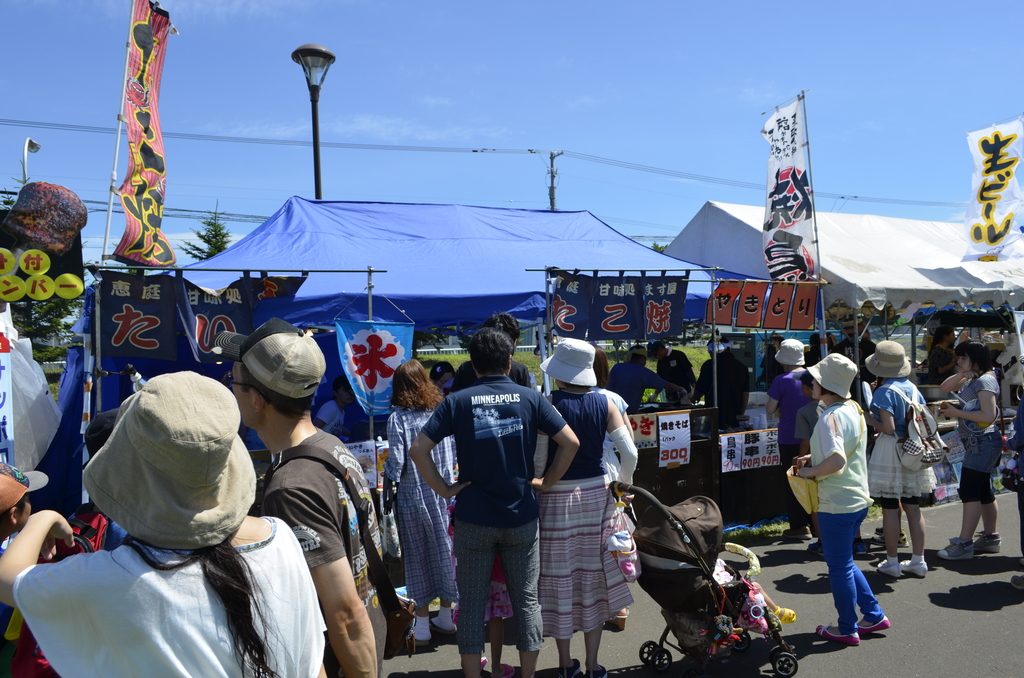 The 9th Sanshikai Festival
There will be around 30 food stalls, a lucky draw where participants can have a chance to win travel coupons, a Dyson V8 vacuum cleaner, or a PlayStation 4 PRO video game system. On top of that, visitors can enjoy the many fun events, festival games, and stage performances.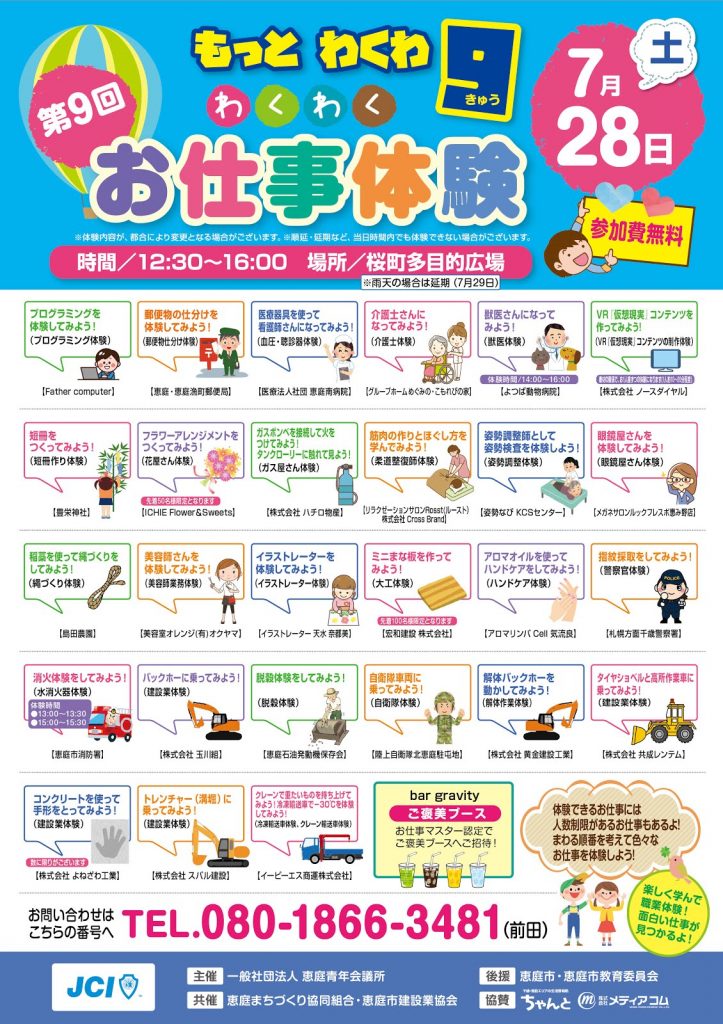 The 9th Work Experience for Kids
Local companies and groups offer work experience events for kids. Try something new this summer!
Contact us
Eniwa Sanshikai Fireworks Festival Committee
(+81)090-3391-5534
Other Recommended Events