2022.11.07
お知らせ
Fresh autumn vegetables is now in season at Kanona Farmers Market in Eniwa!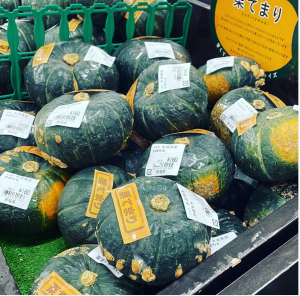 Kanona Farmers Market is next to Hana Road Eniwa, a road rest area. Visitors can find freshly picked vegetabls, wild plants, and beautiful flowers sold by 70 farmers from around Eniwa City.
When thinking about autumn, many people may associate it with pumpkins and sweet potatoes. At Kanona, seasonal vegetables arrive every morning direct from the growers, such as Kuritemari, a small hearty pumpkin that can be eaten by one person, and Beniharuka, a deliciously sweet potato! Come check us out and try the many fresh foods and rare products available!
Kanona Farmers Market in Eniwa
■ Address
817ー18 Minamishimamatsu Eniwa-shi, Hokkaidō, in Michi to Kawa no Eki Hana Road Eniwa (in the Hanafuru flower point)
■ Business hours
9:00am to 5:00pm (April to June, October to November)
9:00am to 6:00pm (July to September
9:00am to 4:00pm (December to March)
■ Phone
+81-123-36-2700