2023.02.06
お知らせ
Eniwa Farmers Market Kanona – The season for fresh winter vegetables is in!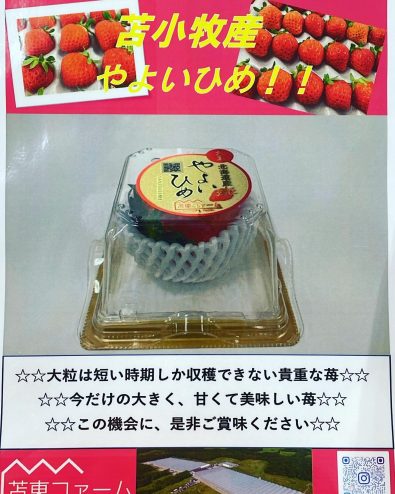 Eniwa Farmers Market Kanona, right next to the Hana Road Eniwa rest area, sells freshly picked produce, wild vegetables, and beautiful flowers directly from 70 farmers around Eniwa city.
Snow-preserved cabbages, which can only be found during the cold winters, is now in season! The cabbages, growing sweeter to avoid being frozen, can be served in salads or hot dishes.
Need something sweeter? How about some ruby-red Yayoi Hime strawberries! They can only be harvested during the cold winter months and are full of flavor.
Check out Kanona for their variety of fresh winter vegetables and seasonal foods!
Eniwa Farmers Market Kanona
■ Address: 817-18 Minamishimamatsu, Eniwa, Hokkaido (next to the Hana Road Eniwa rest area)
■ Hours: 9:00am – 5:00pm (April – June, October – November), 9:00am – 6:00pm (July – September), 10:00am – 4:00pm (December – March)
■ Phone: 0123-36-2700