2022.03.01
お知らせ
Eniwa Bicycle Share [Enikuru]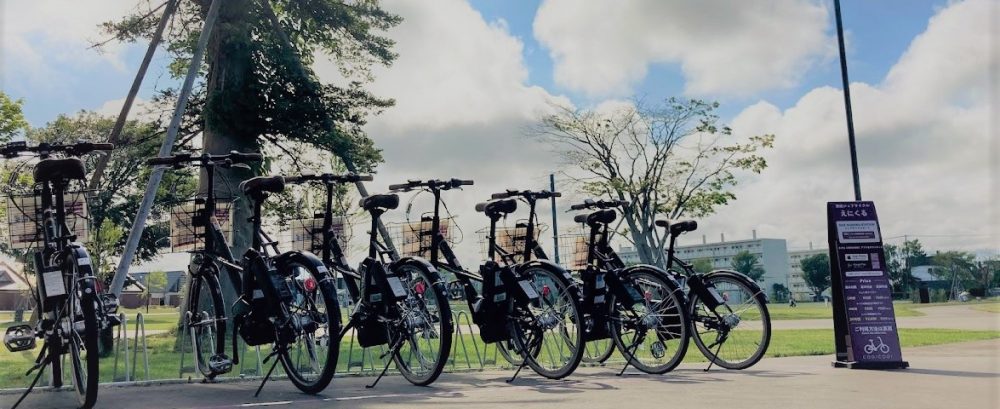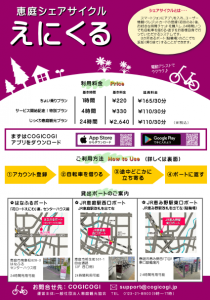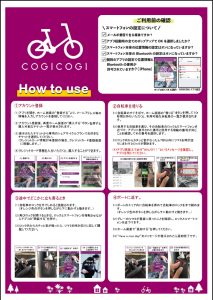 What is Eniwa Bicycle Share "Enikuru"?
After installing the application (COGICOGI) on your smartphone and registering your user information and credit card (only for the first time), you can purchase tickets on the app to rent and return bicycles, 24 hours a day by yourself.
You can return the bicycle at any of the three designated bicycle parking lots in Eniwa City.
There are 14 "Enikuru" bicycles in total.
All are electrically power-assisted bicycles.
* Currently, there are no bicycles for children.
Bicycle parking lots:
(1) Next to the main entrance of Hanafuru Center House (usually 6 bicycles)
(2) JR Eniwa Station, 2nd floor, west exit side free passageway (usually 4 bicycles)
(3) JR Megumino Station, in the bicycle parking lot at the east exit (usually 4 bicycles)
* If a bicycle is returned to another of the 3 lots, the above number of availability may change.
There are three plans available.
〇 Quick Ride Plan (1 hour) 220 yen, 165 yen for each additional 30 minutes
〇 Commemorative service launch! Special Plan (4 hours) 330 yen, 110 yen for each additional 30 minutes
〇 Leisurely Eniwa Sightseeing Plan (24 hours): 2,640 yen, 110 yen for each additional 30 minutes
(Time from borrowing to returning on the app)
"Enikuru" can be used until the end of October.
This shared bicycle system is provided by Cogi Cogi Co. If you have any questions, please refer to the following webpage.
https://cogicogi.jp/smart/port-eniwa.html (COGICOGI website, Eniwa City)
https://cogicogi.jp/smart/qa.html (COGICOGI website FAQ)
Contact:
COGICOGI Support Desk support@cogicogi.jp
Eniwa Tourist Association 0123-21-8900 (9:00am – 5:00pm)
Please feel free to use this service to explore Eniwa City or even for business transportation from the JR station.