2023.01.10
イベント
Calendar Recycling & Market at Frespo Megumino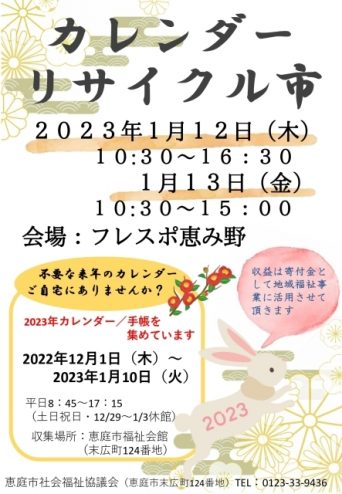 The Calendar Recycling & Market is coming to Frespo Megumino! Over the two days, there will be a variety of calendars and personal planners available. Proceeds from the event will be donated towards community improvement projects too, so come and find one that suits you!
"Calendar Recycling & Market"
■ Date: January 12 (Thursday) 10:30am – 4:30pm, January 13 (Friday) 10:30am – 3:00pm
■ Venue: Frespo Megumino Mall Building Event Space
■ Website: https://www.e-frespo.com/megumino/
We are also accepting old and unwanted calendars until January 10 (Tuesday).
"Calendar Collection 2023"
■ Period: January 10 (Tuesday)
■ Place: Eniwa City Welfare Hall (124 Suehiro-cho, Eniwa City)
■ Hours: 8:45am – 5:15pm weekdays (closed Saturdays, Sundays, and holidays)
■ Inquiries: Eniwa City Council of Social Welfare ☎ 0123-33-9436