2022.03.01
イベント
Eniwa Happy Halloween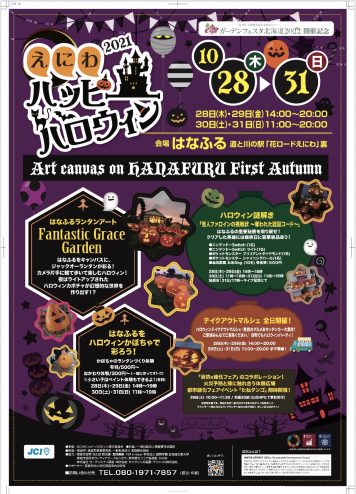 Held every year in October, this Halloween festival is one of the largest events in Hokkaido. This year's event will be held at flower Base "Hanafuru"!
◆ Schedule: October 28th (Thu) and 29th (Fri) 2:00pm – 8: 00pm
October 30th (Sat) and 31st (Sun) 11:00am – 8:00pm
◆ Location: Flower Base "Hanafuru" (behind the Road and River area "Hana Road Eniwa")
《Halloween Riddle》
Heroes who complete the puzzle will win prizes on the last day!
◆ Participation fee: 500 yen
◆ Luxury prize lottery: October 31st (Sun) 17: 00 live streaming
《Hanafuru Lantern Art》
Jack-o'-lanterns decorate Hanafuru and light up the night!
《Experience making lanterns》
Let's carve a pumpkin and make a jack-o'-lantern together! Children can also join in on some painting fun!◆ Participation fee: 500 yen
《Takeout Marche》
Eniwa's gourmet food and kitchen car will also be there! Enjoy a delicious Halloween party at home!
For details, please see the website of the Eniwa Happy Halloween Executive Committee (Eniwa Youth Conference Center).
https://sites.google.com/view/eniwajc/happyhalloween2021
Contact:
Eniwa Happy Halloween Executive Committee
080-1971-7857 (Manager: Nakaizumi)