2019.11.21
お知らせ
【Kamameshi Ichie Catering】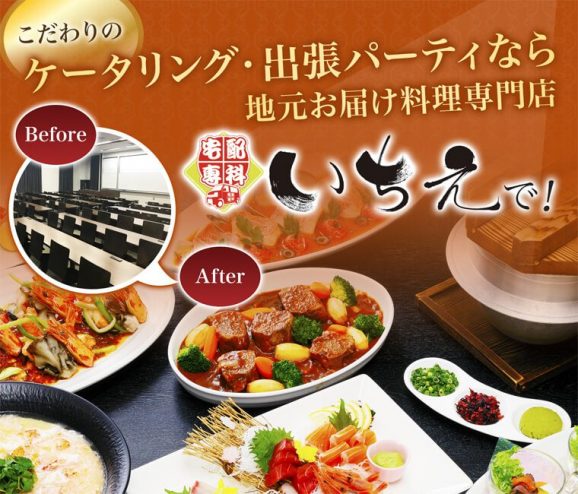 If you want to enjoy gourmet dishes that are authentic and freshly served with seasonal ingredients, Ichie is here to help. We are committed to each item on the menu and will deliver them right to your doorstep. Delivery to Shin-Chitose Airport is also possible.
Japanese lunch boxes, called Bento, are very popular for travelling, tour trips, festivals, fireworks watching, and seasonal events like cherry-blossom picnics and autumn-leaf viewing. Everybody will be satisfied with our Kamameshi, which is rice topped with seafood, vegetables, and grilled meat, most of which are produced in Hokkaido. We also can help load our prepared meals onto sightseeing buses, as well as delivering to Eniwa, Chitose, Kitahiroshima, and Sapporo cities. Please feel free to ask us for more details.
Plates, chopsticks, glass cups, tongs, delivery, preparation, clean-up, and garbage take-away are all included in our prices. (*Prices may vary and depend on the plans and conditions. For example, if the order is less than ¥10,000, a delivery fee will be charged). Our catering can serve a variety of occasions, such as celebratory parties, memorial services, formal events, business meetings, conference seminars, workshops, and holiday events.
◆ Delivery areas: Eniwa, Chitose, Kitahiroshima and Sapporo (a delivery fee will be added to orders that are under ¥10,000).
◆ Menu plans: Traditional Japanese multi-dish meals, lunch boxes, celebration cuisines, Buddhist vegetarian meals, sushi platter, à la carte, and catering.
◆ Pricing Plans: Catering plan ¥2,500, ¥3,500, ¥5,000 per person. Party plans start from ¥10,000 for 5 people.
※ Special menus can be arranged accordingly to your needs and budget.
◆ Reservations: Eniwa branch (0120-036-151) / Sapporo branch (0120-531-541) / Business Hours 9:00am to 7:00pm all year round.
※ Please make reservations at least 3 days in advance before deliveries.