2019.07.29
お知らせ
Study tours invitation activities in Taiwan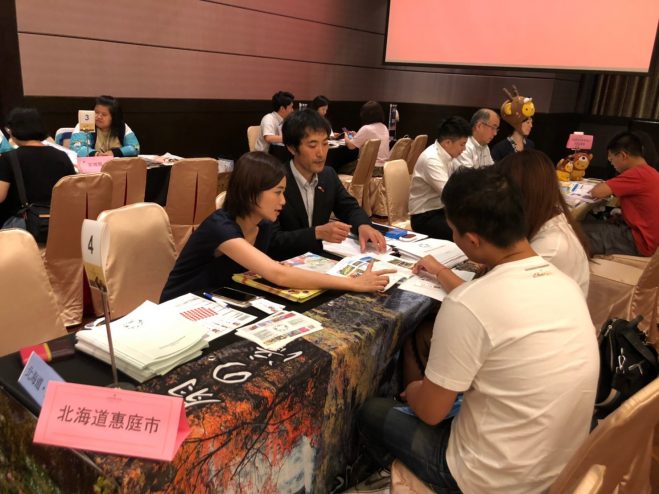 From June 11th to 13th 2019, we participated in the "Visit Japan" project in Taiwan, which included discussions of promoting study tours in Japan.
During our stay in Taiwan, we also visited schools and travel agencies there to discuss the latest situation of study tours and to promote Eniwa City as a good destination for them.
<An overview of roundtable discussions, school visits, and travel agency meetings>
・Roundtable Discussions: 10 schools in Taipei ・ 7 schools in Taichung ・ 7 schools in Kaohsiung
Within 3 days, we had meetings with school principals and study tour supervisors of 24 schools.
・School Visits: 4 schools in Taoyuan City ・ 3 schools in Kaohsiung City ・ 2 schools in New Taipei City ・ 2 schools in Taipei City ・ 1 school in Taichung City ・ 1 school in Hsinchu City ・ 1 school in Miaoli County
We had discussions with 14 schools (11 high schools, 3 elementary schools) in promoting Eniwa City.
・Travel Agency Meetings : 3 agencies
Many schools were interested in Eniwa City as the destination for their study tours, including 2 who requested schedule details.
We noticed that certain programs in Eniwa, such as the overnight temple stay and snow activities, attracted a lot of attention.
Visiting Taiwan as a part of this program gave us a very insightful and worthwhile opportunity to exchange information and ideas with many schools and travel agencies.
We expect to host many more study tours in our home city of Eniwa.